Discover more from Robert Bryce
Energy, power, innovation, and politics.
Over 12,000 subscribers
In March, Ford Motor Company announced that it lost $2.1 billion on its EV business last year. Those losses were double the losses it had on EVs in 2021. As I noted in a video I posted on TikTok on March 23, Ford made 61,575 EVs in 2022. Thus, the company lost about $34,000 on every EV it sold last year. I also noted that the costs of making EVs aren't falling. Last year, the cost of battery packs for EVs went up by 7%.
While the 2022 losses were huge, warning signs show plenty of potholes lie ahead. (More on that in a moment.) 
Indeed, it appears Ford's 2022 losses were only a warm-up lap. Yesterday afternoon, Ford reported a $722 million loss on its EV business over the first three months of 2023. During that span, Ford sold 10,866 EVs, meaning it lost $66,446 for every EV it sold.
For perspective, Ford lost the equivalent of a brand-new Mercedes-Benz E-class sedan on every EV it sold during the first quarter. (An E 450 4Matic has an MSRP of $66,700.) It's also worth noting that at the end of 2022, the average EV transaction price was about $65,000. Ford blamed much of its first-quarter EV loss on lower production due to shutdowns at its plants in Mexico and Dearborn as it aims to boost its EV production to a run rate of 210,000 vehicles by the end of 2023.
Before going further, let me state the obvious: EV sales are growing and there is a lot of momentum (and federal tax credits) behind the industry. But the hype about EVs appears destined for a head-on collision with what my friend Tom Petrie calls "market therapy."
The hard reality is that EVs are still far too expensive for most drivers. I have observed this myself. I never see EVs in low-income neighborhoods. I see more EVs (mostly Teslas) in wealthy parts of Austin than I saw during a two-week visit to Japan back in March. I regularly see empty EV charging stations in cities and on highways. Last weekend, on a trip to Tulsa and back, I saw EV charging stations with no EVs at them.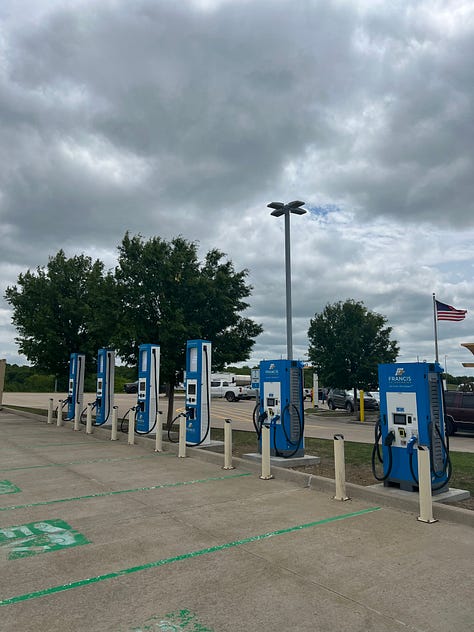 My anecdotal observations are in line with the findings of a report released on Monday by J.D. Power that carried the headline: "EV Divide Grows in U.S. as More New-Vehicle Shoppers Dig In Their Heels on Internal Combustion." The report says that while EV market share has grown "from 2.6% of all new-vehicle sales in February 2020 to 8.5% in February 2023, sales hit a speed bump in March, with monthly market share falling to 7.3%." It continued, saying that "many new vehicle shoppers are becoming more adamant about their decision to not consider an EV for their next purchase."
J.D. Power said the percentage of consumers who say they are "very unlikely" to consider an EV for their next vehicle "has been growing steadily for the past three months, reaching 21% in March." It also said "We find remarkable stability in the top reasons consumers provide for sticking with internal combustion engine vehicles. Lack of public charging infrastructure and price have been the top two concerns for the past 10 months, along with related issues involving range anxiety, time required to charge and power outage and grid concerns."
But price remains the biggest obstacle. The average EV buyer has an annual income of about $150,000. That's twice the U.S. average. And J.D. Power said that pricing trends in EVs are driving in the wrong direction. It pointed to guidance issued last month by the IRS and Treasury Department on the requirements that must be met for EVs to be eligible for federal tax credits, including the sourcing of critical minerals in batteries. The batteries and components must come from the U.S. or countries with which the U.S. has a free-trade agreement. "This new hurdle," said J.D. Power, "will affect the affordability of several EV models, while also likely introducing more confusion among buyers. While we cannot yet forecast the exact effect this new guidance will have on EV adoption, our data suggest that higher prices will negatively affect EV sales." (Emphasis added.)
Amid this spate of bad news, Ford announced on Tuesday that it is cutting the price of its Mustang Mach-E by as much as $3,700 to match the price cuts that Tesla is making on its vehicles.
So here's the summary: Ford is losing staggering amounts of money on its EVs, the price it can charge for its most popular EV is declining, and surveys show consumer enthusiasm for EVs is falling. Add in growing evidence of an economic downturn­­­­­­––and long-term concerns about the cost of the massive volume of commodities needed to build EVs, including copper, lithium, and cobalt­­­––and the challenges facing Ford and other automakers become even more obvious.
In its Tuesday press release, Ford said that its EV segment "operates like a startup." Fortunately for Ford, the company is still making fat profits (about $4 billion during the first quarter) on its conventional vehicles. And it is using those profits to subsidize its EV losses.
But if a business isn't profitable it isn't sustainable. The history of electric vehicles goes back more than a century and that history is one of failure tailgating failure. In 1915, the Washington Post declared "Prices on electric cars will continue to drop until they are within reach of the average family."
Today, 108 years later, Ford and other EV makers are still trying to make that prediction come true.