Discover more from Robert Bryce
Energy, power, innovation, and politics.
Over 12,000 subscribers
"Green" Jobs At Ford And GM Will Cost Taxpayers As Much As $7.7 Million Each
The automakers are getting billions under the Inflation Reduction Act to build EVs. The UAW is not amused.
Those "green" jobs you've been hearing about don't come cheap.
Thanks to the staggering amounts of money that's being doled out under the Inflation Reduction Act to incentivize the production of electric vehicles, America's biggest automakers — General Motors and Ford Motor Company — are building battery factories. Those new factories, one in Spring Hill, Tennessee (GM) and the other in Marshall, Michigan (Ford), will create a total of about 4,200 new jobs. But creating those jobs will cost federal and state taxpayers nearly $22 billion. Thus, each new "green" job at the GM plant (which the company is developing with Korea's LG) will cost taxpayers $7.7 million. Each job at the Ford plant will cost some $3.4 million.
Those are the findings of a scathing new report published a few days ago by Good Jobs First, a Washington, D.C.-based non-profit that tracks corporate welfare. The report also found that another plant, being built in Jeffersonville, Ohio by LG and Honda, will create 2,200 jobs, each of which will cost taxpayers some $4.3 million. Further, as can be seen in the graphic below, which I pulled from the report — "Power Outrage: Will Heavily Subsidized Battery Factories Generate Substandard Jobs?" — the average wage at the factories will be about $46,000 per year or about $22 per hour. That's far less than the wages paid to top union members who work at GM's engine and transmission plants who earn about $31 per hour.
The Good Jobs First report provides yet more evidence of the climate corporatism that is being fueled by the Inflation Reduction Act, the legislation that got through the Senate by a single vote (cast by Vice President Kamala Harris) and signed into law last year. As I reported in these pages a few days ago, the Brookings Institution estimated that the climate provisions of the Inflation Reduction Act could cost taxpayers $1.2 trillion by 2040, that's more than three times the estimates that were published by the federal government last year. In April, in my piece, "Jamie Dimon's Climate Corporatism," I defined climate corporatism as the use of government power to increase the profits of big corporations at the expense of consumers in the name of climate change.
The Inflation Reduction Act — the biggest corporate giveaway in American history — is more proof of this corporatism. Last month, at the Breakthrough Dialogue, socialist author and journalist Leigh Phillips recently called it "profoundly Marxist" legislation. Phillips (who was on the Power Hungry Podcast in 2021) may be right. But the Inflation Reduction Act won't help the lumpenproletariat. Instead, it's a gift to big business, including foreign giants like LG, Honda, and China's CATL, which is partnering with Ford on the Michigan battery plant. The big automakers will get tens of billions of dollars in subsidies to make EVs and those subsidies are coming at the expense of workers, particularly union workers, and taxpayers. As Whiton and LeRoy explain, the owners of the battery factories will:
each receive more than a billion dollars per year from the U.S. government, with no requirement to pay good wages to production workers. Thanks to the Advanced Manufacturing Production Credit, also called 45X for its section in the Internal Revenue Code, battery companies will receive tax credits that they can use, sell, or cash out. The 45X program alone will cost taxpayers over $200 billion in the next decade, far more than the $31 billion estimated by Congress's Joint Committee on Taxation."
It gets worse. The Good Jobs First report was published  at about the same time that media outlets are reporting that domestic sales of EVs are flagging. More on that in a moment.
The Biden Administration has repeatedly promised to create "good-paying union jobs." An August 19, 2022 "fact sheet" on the Inflation Reduction Act published by the White House, (image above) contains that phrase three times, including the claim that "The Inflation Reduction Act creates good-paying union jobs that will help reduce emissions across every sector of our economy."
On January 12, the White House issued a press release, the first sentence of which declared "When President Biden came into office nearly a year ago, he pulled every lever to position America to scale up clean energy that creates good-paying, union jobs." But as Jacob Whiton and Greg LeRoy of Good Jobs First point out in their report, the federal tax credit known as 45X "has no job quality requirements for permanent jobs and doesn't mandate companies pay market-based wages or benefits." It's also essential to note that the United Auto Workers, one of the biggest and most powerful unions in the country, is refusing to endorse Biden in the 2024 election due to his support for non-union EV plants.
Last month, after the Department of Energy announced it would give Ford a $9.2 billion low-interest loan to build additional battery factories, two in Kentucky and one in Tennessee, Shawn Fain, the president of the UAW, issued a statement slamming the Biden administration. "We have been absolutely clear that the switch to electric engine jobs, battery production and other EV manufacturing cannot become a race to the bottom," said Fain. The federal government is "actively funding the race to the bottom with billions in  public money." Fain continued, saying the big automakers are:
extremely profitable and will continue to make money hand over fist whether they're selling combustion engines or EVs. Yet the workers get a smaller and smaller piece of the pie. Why is Joe Biden's administration facilitating this corporate greed with taxpayer money?
Now back to EV sales. Yes, overall EV sales are up. In the second quarter, they increased by about 48% over the same period from a year ago. That's a huge increase. EVs now account for about 6.5% of new car sales. And yes, Tesla sales have been growing. And yes, Chinese EV sales have also been robust.  But on July 10, Axios reported that the nationwide "supply of EVs in stock has swelled nearly 350% this year, to more than 92,000 units. That's a 92-day supply — roughly three months' worth of EVs and nearly twice the industry average. For comparison, dealers have a relatively low 54 days' worth of gasoline-powered vehicles in inventory."
Ford's EV sales have been particularly lackluster. That's a problem. FoMoCo plans to spend $50 billion on EVs and it is aiming to produce 600,000 of them this year. But the company is losing huge amounts of money on its EV business. As I reported here on May 3, "Ford reported a $722 million loss on its EV business over the first three months of 2023. During that span, Ford sold 10,866 EVs, meaning it lost $66,446 for every EV it sold."
Ford expects to lose $3 billion on its EV business this year and its flagship sedan, the Mustang Mach-E, is piling up on dealer lots. Second-quarter sales of the model fell by 21% compared to last year. On July 12, Business Insider declared that "The Blue Oval is sitting on more Mustang Mach-Es and F-150 Lightning pickup trucks than it can sell." On July 14, InsideEVs.com, published an article headlined "'Ford's Got a Real Problem,' Says Dealer on Rising EV Inventory." The article said "Increasing inventory levels for EVs appear to be a growing pain for Ford dealers. One East Coast Ford dealer shared that ballooning supply was not in sync with demand, leading to more Ford EVs remaining unsold." It quoted the dealer as saying "Ford has got a real problem on its hands, based on the bets it has made." The article continued: "stocks of Ford F-150 Lightning and Mustang Mach-E hadn't piled up in the same manner before. This particular dealer isn't the only one declining new allocations of Ford EVs. Other Ford dealers have also declined their new Mustang Mach-E allocations."
There are plenty of Mach-Es here in Austin. A search on Cars.com found 75 of them within 20 miles of my house. To confirm this, I stopped by a large Ford dealer yesterday afternoon. The dealer had 23 Mach-Es in stock. Most were selling for more than $50,000. The dealer also had six F-150 Lightnings in stock, the cheapest of which was selling for $73,000. Of course, the F-150 has long been one of the best-selling vehicles in America. A search on Cars.com found hundreds of F-150s available, including a standard cab F-150 XL, in white, for $34,100. It also turned up 20 other F-150s selling for less than $40,000. Put another way, a shopper in Austin looking to buy a brand-new pickup, could get a basic F-150 for about half the price of the cheapest F-150 Lightning.
Ford's flagging EV sales should not be surprising. The prices on the Mach-E and Lightning show that EVs are still luxury items that are priced for the Benz and Beemer crowd. The average EV buyer has an annual income of about $150,000. That's twice the U.S. average. In May, J.D. Power released a report headlined "EV Divide Grows in U.S. as More New-Vehicle Shoppers Dig In Their Heels on Internal Combustion." The report says that while EV market share has grown "many new vehicle shoppers are becoming more adamant about their decision to not consider an EV for their next purchase."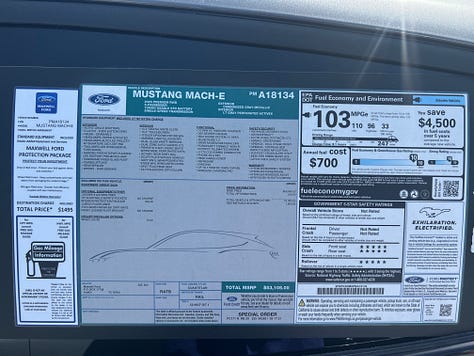 In summary, Ford and GM are trying to sell expensive luxury cars into a market where consumers are increasingly skeptical of EVs. And they're doing so at a time when prices on new cars of all types are high, consumers are holding onto their cars longer, interest rates are high, and a recession is looming. And all this is happening while large numbers of EVs are already sitting on dealer lots and the automakers are going to build hundreds of thousands more.
Why are they building so many EVs? There are two reasons. First, recall that in April, the EPA announced pollution rules that could require up to two-thirds of all the new vehicles sold in America to be fully electric by 2032. (Read my May 20 piece "The EPA's China Syndrome," for more on that.) Second, the automakers are getting scandalous amounts of government money to build EVs. Given the looming mandate and all that free money, the automakers seem to be saying "Why not?"
But that question requires asking two more: what happens if this all falls apart? What will happen if GM and Ford are stuck with tens of thousands of unsold EVs that consumers refuse to buy?
This isn't a prediction. But down the road, maybe in 2024 or 2025, don't be surprised if the denizens of Detroit and Dearborn come back to Congress looking for another fill-up of free taxpayer cash.
---
Before you go: Click that ♡ button or you will be required to buy a Mustang Mach-E.